by Anita Zaror
Adulthood dreams of experiencing Fellini's La Dolce Vita might be shattered in Bangkok when we are a 12-hour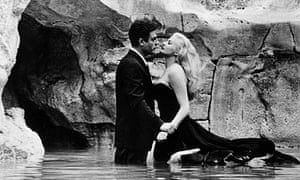 flight away from Fontana di Trevi, but The City of Angels never fails to fulfill dreams, especially when it comes to food.
Inspired by products, preparations, and the bon viveur lifestyle commonly seen along the Mediterranean coast, Latest Recipe restaurant at Le Méridien Bangkok has launched "La Dolce Vita," a concept including renewed lunch, dinner, and Sunday brunch buffet menus, to discover starting this May.
Daily from noon until 2:30 p.m., Latest Recipe offers a good value lunch buffet (THB 900 net per person) featuring traditional Mediterranean flavors, also offering Thai and Asian classics.
Start off with a glass of Bollinger Special Cuvée (THB 2,800++ per bottle and THB 590++ per glass) and some fresh seafood from their selection of oysters, mussels, clams, snails, banana prawns, squid, baby octopus, blue crab, sea almond, and razor clams. Or go Italian-style and taste the antipasti including salads, cheeses, and different types of bread with a drizzle of organic Italian Accardo olive oil. Don't miss the fresh burrata by Antica Luna, a Thai company, in fact, making fine Italian dairy products. For an East Asian prelude, sashimi and sushi are a good start.
As Killian Donoghue, General Manager of the hotel explained, "it's all about enjoying life with lifestyle foods and beverages. Our reading of 'La Dolce Vita' ranges from French Provencal + Mediterranean Cuisine to vibrant Asian live cooking stations."
Probably the coolest feature of this lunch buffet is that many of the dishes are prepared live so, albeit you can get unlimited servings of that blue crab you loved (which they will crack open for you on request), it's also very 
comfortable to just sit at your table and wash down the copious amount of food with a glass of Côtes-du-Rhône or Chianti, while your choice of main course—among roasted duck leg confit, Merlot seafood soup, ratatouille, Lyonnaise potatoes, salmon poached in olive and vierge sauce, or braised beef cheek with truffle sauce—is being prepared à la minute… while also being able to get unlimited servings of those!
Options are too many to mention here: from wood-fired oven cooked pizzas, strawberry risotto, foie gras, scallop tartar, salmon smoked three-ways in-house, homemade pasta (including our favorite ravioli with truffle butter sauce)
, and teppanyaki meats, to spicy Thai salads and Khao Soi (Chiang Mai noodle soup). It's worth trying a bit of everything, but don't forget to leave some space to taste the traditional Italian desserts.
And make sure to tell your name to the restaurant's award-winning barista Son Nguyen when you order your coffee, as you might get a sweet surprise with your Cappuccino…
Free-flow beverage packages are offered for the dinner and Sunday brunch buffets, but not for lunch.
Saluti, Fellini.
Where: Latest recipe, Le Méridien Bangkok (2nd Floor)
When/How much:
Lunch (Daily, 12–2:30 p.m.) at THB 900 net per person
Dinner (Thursday to Saturday, 6–9:30 p.m.) at THB 1,100 net per person
Sunday Brunch (Sunday, 12:30–4:30 p.m.) at THB 1,700 net per person